Thursday, December 11, 2008 @ 1:16 PM
ah lucky .
hahaha i want to tell a story ! but it hardly to explain it in english , so i will use bahasa Indonesia haha. ceritanya gini ni . so jadi :
nah tadi kan pulang ujian tu cepet secara ya kayak aku bilang tadi , penjas ama sejarah quite eaasy lah . hahah , jadinya tuyh kan ga dijemput , pulang naek angkot 63 , jadi aku jalan ama sepu2ku si zur ama tiya anak ipa4 , udah lah kan jalan ke tempat nunggu angkot ~ eit 63 nya lewat . nah pas aku naek tu , kan lumayan kosong cuma ada 5 orang ama kami , ada ibu2 gtu ,
pake baju item , pake celak item
,and
she brought hmm 1 plastic bag ama bagnya dia
. and i was like "aduh perasaan ku ga enak " nah abis tu kan . si ibu ni , kayak nge otak atik plastic bagnya dia , and my sepupu zur was like lirik2 ke aku , kasih tanda suruh liat ya kan , and i was like OKAY . hahah and then , tak lama kemudian , ah oh ya , sebelum aku duduk ibu itu ada ngomong aneh gtu kan , dalm pikiran kami
" ada apa dgn ibu ini ?(baca = apa agak stres)"
gtu lah ya kan . nah trus lanjut kan , udah lah di perjalanan , tiba2 aku ngomong
dita
: " zur , kalo di HI , mesti pinter bhs inggrisny"
zur
: " HI ? apa tu ?"
dita
: "hubungan International loh "
zur
: " ya iyalah , namanya juga HI "
and then suddenly the ibu ikut nimbrung , and she was like

"ibu ini dari amerika , lagi main di medan , nanti sore balik ke jkt"
jedueeeng i was like , ah ibu ini agak stress yah xDDD lol maap bu
and then . dia kan crita2 , dibilangnya lah dia tu tnggla di amrik , new york . artis2 tu banyak yg datang ke rumahnya , and dia dekt ama mbak tutut and apalagi yah dia blang , oh ya , she said that her bapak punya a company that , hm itu export import barang ke eropa or something , a big world companny , and she told us that " rumah ibu di medan ada 45, ini lagi mo ke binjai ke 4 rumah (red.binjai dkt rumahku) ,and we were like "oh ~" hahah rada ga percaya kan . hahah x3 and then she showed us pictures . and bener ! dia tuyh ada poto ama bule yah , trus yah kayak di NY gt lah keadaaanya . and so on . and we were like " OWAAAA. " hahaha ibu itu banyak lah crita2nya kan , hahah kami ga percaya , tapi lama2 jadi sedikit percaya , and you know what guys , pas kami mo turun dari angkot , she said"
udah biar ibu aj yg bayar. salam sayang yah
"
and zur was like"eh ga usah bu~ " tapi si ibu tetep kekeh and at last we say " makasih ya bu ~~"
hahah trus kan naek becak lagi buat nyampe rumah . hahah and we are sangat heboh that time. haha
dita
: "zur mimpi apa kita?bnrnya tu"
zur
: " iya lah kayaknya"
hahah and we reached home kan , and langsung heboh crita ama mama ,
"mah mah , tadi ada lah ibu2 ,~~~~" critalah kan kami . and my mom was like " ah agak stress tu . ga mungkin " tapi kan ~ si ibu jelas2 bayarin kami and dia tu crita kayak bnr2
, apalgi ada potonya bareng titik puspa , sama artis hollywood gtu
. haha . ah and yes that ibu name's bu novi . she's javanese. lol banget ah pokoknya , lucky us ~
angkot dibayarin lumayan ~ hahah , ibu tu baik lah , walo kadang2 kita pikir agak stress dikit , maaf ya buk . haahahaha
semoga aja ketemu lagi . hahahahhaha <33
hahaha i try to caps and here are the results ~ god ! kangin oppa is so cuteee . hahaha so does hongki LOL .
HONGIN <3>

ah i really can't wait for the movie . haha . aaha T__Y
i really don't want to accademy today , but my cousin keep ask me to go ~~ she want to meet that abang tentor . halah bang benny2
hahah oh ~ T___T saturday's exams are

PPKN

and

BIOLOGY

~
ah . hapalan lagi . capcus deh ):

^cute cute
<3
caps from THE ONE , it's sp hard to caps jaejin and jong's part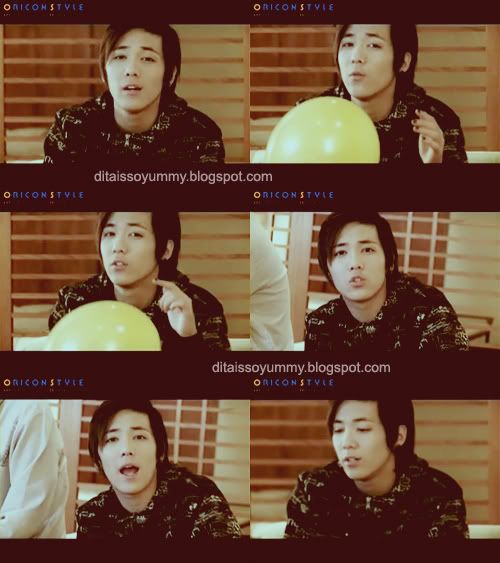 ^nae saram
^lols ayam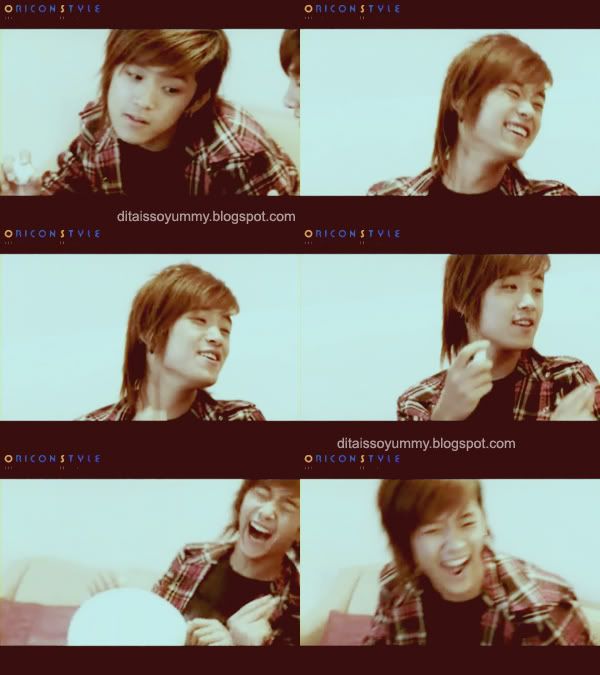 ^mr.black goat
hahah wonbin ah ~~ <3
leader ssi ~ <3
oh yes i know it right ~
hm i am listening to
park hyo sin's snow flower
,
what an amazing voice,
oh i remembered JUN.K suddenly , he did the cove of this song
and his voice was like <333333
hahaha
Labels: 63, aneh, angkot, biology, hongki, innocent, jaejin, jonghun, kangin, manhwa pure, minhwan, ppkn, primadonna. ft island, stres, wonbin