Wednesday, April 23, 2008 @ 10:51 AM
HEY!!I WOKE UP!LAWLS
heeyaaa..i just woke up,.hahah,so late yeah.
no wonder i sleep at 2am this morning,random activities,LOL~
hahaaha.holiday is such a great thing,even it just 3 days ,and then i'll back to the s*** school
so TIRED!!! fuhh~~
wannna post my pic,kkk,with HONGKI<3
i love this guy so dar crazyli badly*badenglish*.this guy is blind my eye,*ohreally?*
oh GOD,
lead me to meet him once again,.
MEET THEM AGAIN,AND RUN AFTER THEN AGAIN.,
it's such a great moments~~
like my banner say...

Tuesday, April 22, 2008 @ 11:34 PM
waaaah..,my new skin..how crazy*gilabanget*
hahahaaaa..i am such a baka mittaiXD
hahaa..
i do not update this for about 1 years
omonaa.
how come am i??
haha,just because i cant change the skin.
but knowww,yeah i can ,yiipii*kampungbgt*
hahahaa.
so for celebrate it,lemme post may hubbie's photos
kkk
oh my god,i really miss him so much..
lead me to meet him again..amiin~~
credit ;as tagged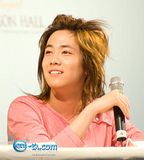 oh *dies*
why dont i see his bright smile like that in malay
*sigh*